Five Steps to Health in America
In Spring of 2015, five Advisor Sessions brought together forty-two multidisciplinary representatives from five Seventh-day Adventist health systems in the United States that comprise the Adventist Health Policy Association (AHPA): Adventist Health, Adventist Health System, Adventist HealthCare, Kettering Health Network and Loma Linda University Health.  Inspired by ideas and suggestions put forth by these Advisor Sessions, writing teams from across the five systems created Five Steps to Health in America: A Health Policy Agenda for the Next President and Congress of the United States.  
This book is a true representation of our collaborative efforts and encompasses AHPA's vision of whole persons living well in healthy communities.  This vision is driven by our Seventh-day Adventist legacy of caring for the physical, emotional and spiritual needs of our patients.  It calls for a robust focus on lifestyle choices, disease prevention, and attention to the factors that enhance or detract from personal health.
The five policy proposals considered in the Five Steps are as follows:
Prioritize wellness as a key domestic policy with a broad national focus
Improve the current health system
Strengthen the public health infrastructure
Move to people and community-centered care, integrating mind, body and spirit
Support health in all policies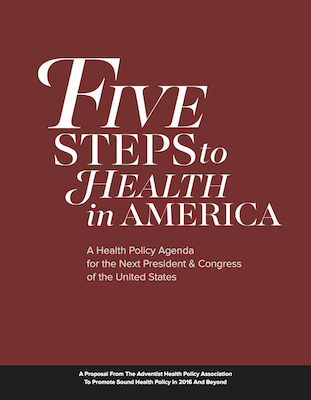 Click on book cover to download the book PDF