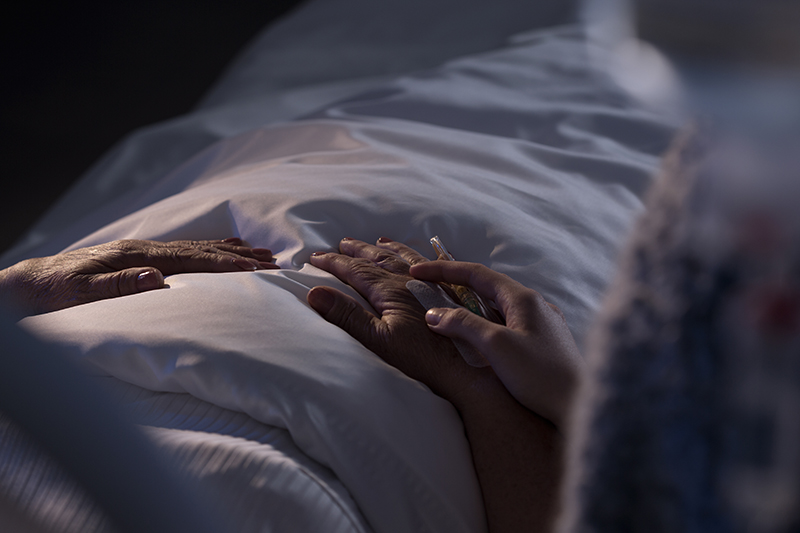 By IHPL - June 7, 2018
In 2016, California became the fifth state to legalize physician-assisted dying. Originally introduced by California State Senators Lois Wolk (D-Davis) and Bill Monning (D-Carmel) as Senate Bill (SB) 128, "The End of Life Option Act" passed the Senate but stalled in the Assembly Health Committee after several Democrats from Southern California opposed the measure. It was then reintroduced as AB2X-15 in a special legislative session convened by Governor Jerry Brown to discuss Medi-Cal spending.
What is the End of Life Option Act?
The End of Life Option Act allows terminally ill, mentally competent, adult residents of California to request, obtain, and self-administer aid-in-dying medication. The law is modeled after Oregon's Death with Dignity Act and individuals must meet rigorous conditions before gaining access to a lethal dose of barbiturates to hasten their deaths. For instance,
Two physicians must agree that patient is suffering from terminal illness and has less than six months to live
Patient must voluntarily express their wish to end their lives by providing


Two oral requests submitted to their physician 15 days apart and
One written request to their physician signed by at least two adult witnesses
The law went into effect June 9, 2016 and is set to expire on January 1, 2026.
What is California's experience with the End of Life Option Act?
According to estimates by Compassion & Choices, at least 504 terminally ill Californians have received lethal prescriptions to end their lives between June 2016 and June 2017.
According to the California Department of Public Health's report looking at the first seven months the End of Life Option went into effect (June 9, 2016 to December 31, 2016):
Of those who died from ingesting the drug (median age was 73 years),
89.5 percent were white
54.1 percent were female
83.8 percent were receiving hospice and/or palliative care
72.1 percent had at least some level of college education
58.6 percent had cancer
There has been no update on this report since December 2016, and a new report is due on or before July 1, 2018. There are also no reported incidences of abuse.
End of Life Option Act and Drug Price Increases
Valeant Pharmaceuticals makes Seconal, the drug most commonly used by patients who opt to hasten their deaths. In 2016, Valeant Pharmaceuticals was once again in the news when it was discovered that the company doubled the price of Seconal to $3,000.1
Why did the Judge overturn the End of Life Option Act?
Opponents of the law fought the law from the day it was passed. In 2016, a number of physicians along with the American Academy of Medical Ethics and the Christian Medical and Dental Society filed a lawsuit to end the End of Life Option Act.
On May 15, 2018, Riverside County Superior Court Judge Daniel A. Ottolla ruled that the End of Life Option Act was unconstitutional because it was passed during a special session convened to discuss Medi-Cal, another health care issue. The judge did not rule against the content of the law; rather, he decided that the End of Life Option Act was not enacted in an appropriate manner. The California Attorney General filed an emergency appeal to keep the law in place but this request was denied, causing the End of Life Option Act to be immediately struck down.
What will happen next to the End of Life Option Act?
A hearing has been set on June 29 for Riverside County Superior Court to consider a motion filed by the California Attorney General's office to vacate Judge Ottolla's ruling. For now, terminally-ill patients cannot obtain medical aid-in-dying under the End of Life Option Act and protections offered to providers who participate in the law will not be recognized. Patients who have started to access the medication will also be unable to complete the process.4
If you would like to read more about how physicians view the End of Life Option Act, please click here.
---
Author bio

Helen Jung, DrPH, MPH
Dr. Helen Jung is the Senior Health Policy Analyst for IHPL and serves as an Assistant Clinical Professor in Loma Linda University's School of Public Health. She conducts policy research and analysis as well as developing publications on key policy issues for the Institute and the Adventist Health Policy Association. Dr. Jung received her Doctorate in Health Policy and Management from UCLA's Fielding School of Public Health and holds a Master of Public Health from the University of Michigan, Ann Arbor.
For more information, contact Helen at: helenjung@llu.edu.
---
References