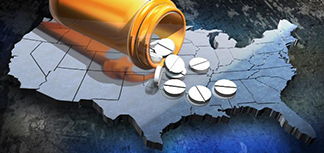 By IHPL - June 7, 2016
Editorial Note: We continue to feature Dr. Gregory Olson's three part series on opioid prescription abuse. This is the third and final installment.
For further information on help and treatment, please visit Substance Abuse and Mental Health Services Administration's website (www.samhsa.gov/find-help)
---
By now, most should recognize that the US is experiencing a serious opioid crisis. Unfortunately, as I have pointed out in the previous post, it's a recent problem in a long line of still unresolved addiction epidemics. Naturally, while we are compelled to deal with this crisis now, it is perhaps more crucial to identify common contributory factors in an effort to prevent the next wave of American excess and destruction.
You may have already formed an opinion on this topic or perhaps are familiar with the complexity of addiction. Public policy varies based on interpretation of evidence about rehabilitation and prevention protocols. Let's take a look at how the country is addressing opioid drug abuse starting with one of our first reactions.
Accountability
Normally, our human nature first drives us to assign blame in times of trouble. This natural reflex is our way of shifting responsibility away from ourselves and is reflected in many of the policies we make. It may also explain why as a society we lean more toward punishment than rehabilitation.
Simply look at the language we use when talking about problems like opioid abuse. The words reveal the inclination to fight rather than restore. Policies emphasize treatment rather than prevention. Few would disagree that our previous war on drugs has produced little progress other than an overcrowded prison system.
Who do we blame for opioid abuse? Who do we think is responsible?
A recent Harvard poll of American adults asked who was mainly responsible for the prescription opioid issue.1 Thirty-seven percent blamed the user and thirty-four percent the prescribing doctors. The drug companies and Federal Drug Administration (FDA) were at ten and seven percent, respectively. Perhaps these last two numbers are low because the average individual views these institutions to be further away from the problem.
Imagine how opioid policies and laws would be written if a majority considered the users primarily to blame for the crisis. Reflect on your own reactions and thoughts about how a solution might be constructed. Look at the effect of particular words and how they reflect and reinforce biases that influence public policies.
Furthermore, and at the risk of oversimplification, great and effective policy - making involves input from all stakeholders and requires consensus about the true nature of the problem. Often this is the most difficult and time-consuming part but it is necessary to create the buy-in essential to generating solutions.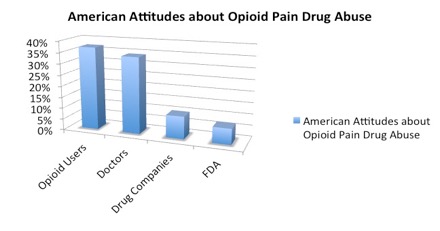 Results from March 2016 Poll of Adult Americans2
As we look next at a few policies related to opioid abuse, consider who is targeted and how. Also, contemplate who the stakeholders are and what their agendas might be.
Controlling the Crisis — New Recommendations and Policies
Because of the attention opioid abuse is currently receiving, there's a lot of activity on policies related to opioid use. Legislators (national, state and local) and regulatory agencies are all voicing recommendations and passing bills to manage the epidemic.
Here are some proposed policy goals and concepts:
Prescription Monitoring Program that is accurate, up-to-date and used consistently
Uniform and universal electronic health records and Health Information Technology
Addiction therapies incorporating Medication-Assisted Treatment (MAT)
Expanded access to treatment
Overdose education including use and increased distribution of Naloxone (an opioid reversal drug intended to be used for overdoses)
Required education for Primary Care Physicians about best practices for managing pain and prescribing opioids
National Take-Back programs to collect unused prescription opioids
Educational programs for schools and communities about the risks of opioid abuse
Increased enforcement efforts to address doctor-shopping and pill mills
Development of more abuse-resistant opioid pain pills
Federal
Many of the above concepts have been shared across the branches and levels of government to varying degrees. In addition to White House Recommendations, the Senate passed Bill 524, the Federal Comprehensive Addiction and Recovery Act.3 Not to be outdone, the House has passed eighteen opioid-related bills.
Regulatory Agencies
In addition to the legislature, regulatory agencies are weighing in on the opioid problem. The Federal Drug Administration (FDA) announced label changes that will include possible consequences of overusing opioid pain drugs. They also released a draft recommendation to develop generic abuse-deterrent opioids.
In March 2016, the Centers for Disease Control and Prevention (CDC) published the Guideline for Prescribing Opioids for Chronic Pain.4 CDC Director Tom Frieden outlined the guidelines as follows:5
Choose non-opioid pain drugs for chronic pain not associated with active cancer and end-of-life care
Start with low doses of prescription opioids and progress slowly
Monitor every opioid patient closely
The Department of Health and Human Services (DHHS) released new funding for Community Health Centers focused on expanding access to MAT. They also increased the number of patients for which each approved doctor could prescribe buprenorphine—a drug with demonstrated success in reducing addiction to opioids.
States
On March 14, 2016, Massachusetts passed a broad-sweeping House Bill (No. 4056) that limits first-time opioid pain prescriptions to a seven-day supply and compels drug makers to manage unused opioids.6 Wisconsin and West Virginia followed suit with their own plans. Many other states have done or are doing likewise. Variations in scope range from more stringent governmental oversight to more robust community treatment networks for addiction.
Money Trail
A friend of mine attributes the following wisdom to Warren Buffett, "The answer is money. Now tell me your question."
All in all, there's an amazing amount of activity as both sides of the aisle race to add opioid abuse to their agenda. Many of these efforts appear to fall short for a variety of reasons, not the least of which is the lack of funding to implement the regulatory changes. The surest sign that an issue has reached critical importance isn't repetition in the news cycle; rather, it is when it generates policy then law and ultimately receives funding.
A primary driver behind creating new or remixed drugs (such as larger, more addictive single-dose pills) is making a profit. Drug company profits further depend on getting new patents, a speedy FDA approval, and strong sales strategies. An added upside for the drug industry and lobbyists is the additional urgency and pressure on the FDA to speed up the approval process.
Financial incentives also create a troubling conflict of interest in the pharmaceutical industry. Take for instance how side effects due to one drug ironically create an opportunity for another drug. As a relevant example, new drugs are designed to treat the opioid-induced constipation (OIC) experienced by chronic users. Remember the animated colon advertising a drug for OIC during this year's Super Bowl? Prescription opioid drug use, aside from the addiction, is big enough to generate more profits for pharmaceutical companies.
Finally, direct-to-consumer drug advertisements like the OIC ad just mentioned program us to ask for specific drugs as a solution to all types of illnesses and conditions. More than ever, we rely on WebMD and online reviews from friends and strangers to tell us which doctors to see and how to treat our aches and pains. It follows suit that we will continue to fall prey to the constant advertising from pharmaceutical giants.
What if?
Until we stop hoping that pills will solve our pains and illnesses, we will continue experiencing serious side effects and new addictions. Looking at the overall picture, it is obvious to see that the opioid epidemic is yet another sign and symptom of a dysfunctional health care system and possibly a dysfunctional society. We are out of balance. Look at all of the people expressing frustration, anger, and hopelessness. The current presidential election illustrates this clearly.
Some scientists point to a functional, social disconnect as the precursor to poor pain management, to experimentation with drugs and, ultimately, to addiction. There is evidence that significant relationships and the resulting sense of connection can protect individuals from becoming addicted.
What if, in addition to what's already been proposed by our legislators and policy makers, we consider the following:
Emphasize prevention and rehabilitation over condemnation and punishment
Invest more in healthy, connected communities and relationships
Reframe the language used to avoid stigma and bias
Define and engage all stakeholders
Open research data for public review
Shift our expectations for health care to health-creation/maintenance
Let's continue the discussion and hold ourselves accountable individually and as a society for intentionally creating policies that support health and happiness.
---

Gregory Olson, DDS, MS
Gregory Olson, DDS, MS, is a board certified pediatric dentist and orthodontist. He is currently an associate professor at Loma Linda University School of Dentistry and also a Faculty Scholar for the Institute for Health Policy and Leadership.
Dr. Olson has recently completed the Harry W. Bruce Jr. Legislative Fellowship with the American Dental Education Association and now serves on their Legislative Advisory Council. He is committed to investing in innovative partnerships, ideas and policies that will improve the health and well-being of all.
For more information contact Dr. Gregory Olson at: golson@llu.edu.
---
---
Did you like this article? We want to hear from you! Leave your comments or questions in the space below.
Please note that the views expressed in this article do not necessarily represent those of Loma Linda University Health or the Institute for Health Policy and Leadership.