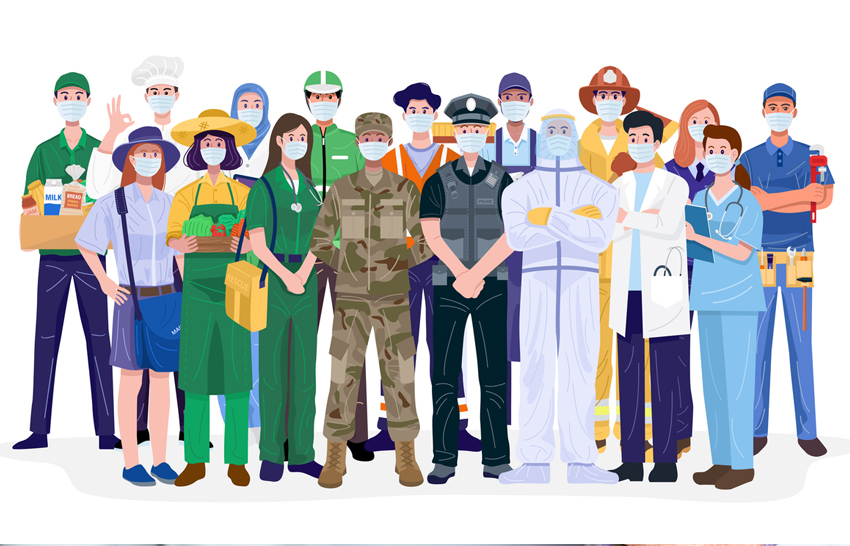 By IHPL - December 1, 2022
I. Background: Remembering those on the front lines
A. Importance of employee health and safety
December is the time of the year when many Americans prepare to travel for the holidays. Since the COVID-19 pandemic began nearly three years ago, participation in travel has significantly increased as many individuals have increased their comfort levels with venturing out, and many have taken various protective measures to participate in such mobility safely like receiving vaccinations, boosters, flu shots, etc. Air transportation is still viewed as an attractive option because of the ability it affords one to travel over great distances in a short amount of time. So, as travelers venture out without the same levels of public health safeguards in place like at the height of the pandemic (which included universal masking mandates), industry travel experts like Michelle Baran have advised travelers to plan to be proactive in making personal efforts to stay healthy amid the confluence of COVID, flu, and respiratory syncytial virus (RSV) during this cold and flu season.1  
With efforts to resume our activities of daily living with travel to familiar as well as newer places of interest, we are reminded of those frontline individuals who continued to work throughout the pandemic and under varying environmental and occupational hazards to provide us with many services we enjoy and rely upon. I would like to briefly focus on a few select areas where gaining a frontline worker's perspective will help us give more reasons to be thankful this season. Most are aware of our unsung heroes in health care who delivered care to many with COVID (whether in ambulatory, virtual, or inpatient health care settings), including efforts to resume the usual provision of routine care. However, in this short reflection, I would like to highlight other potential benefits for maintaining such policy options for any frontline workers who are regularly exposed to the public where the CDC's order (now recommendations) for quarantining and isolation are less possible within the context of performing their jobs.2
B. Assumptions about good business, the economy, and its benefits for everyone
Let me begin by stating several potential assumptions, ones I believe are relevant when talking about universal masking policy options and employers. They are as follows:
Many organizations recognize the importance of serving the needs of their customers. They want to provide good customer service and a positive experience with the services rendered. This goal is what most organizations strive to meet, whether they are a for-profit or non-profit entity.
Many organizations espouse the importance of their workforce. Business leaders often acknowledge the vital role of employees in the organization's work. Read a company's vision, mission, and value statements and you will see those tenets laid out for everyone.
Many organizations are committed to following recommended precautions and safeguards for doing business, especially when they believe it will affect their business model and capacity to be financially viable. In general, business leaders recognize the implications for both their customers and their employees when making such decisions.
Potential conflicts of interest can arise when profits or revenues (depending on an organization's tax status) are placed above the needs of customers and employees, especially when weighing the extent to follow recommendations for protecting health and safety. Tolerance and variability in how organizations invest, deploy, and respond to known risks associated with the costs of doing business may vary across industries and sectors. Questions that can arise surround the extent of disruption to operations, assessment of risk and likelihood of occurrence, etc. In public health and health care, we are known for being highly regulated organizations. Even so, health and safety have been elevated as priorities to reflect their importance to being able to perform with high reliability and to protect the workforce as well as those being served.
Organizations want to avoid being perceived as mandating universal masking to their customers when there are no ongoing requirements (federal, state, or local) to do so. So, adopting customer-friendly policies that permit individual choice and autonomy seem preferable than having to seek customer compliance and enforcement of requirements that may drive customers elsewhere to competitors with greater flexibility or less requirements. The point here is the organization's general orientation toward a very customer-centric approach which may not equate to a similar internal view that is applied when considering the health and safety needs of the workforce in delivering those services.
II. Other perspectives about risk that are worth considering
A. View from the airline industry
A recent article by Anderson,3 an industrial hygienist in the Air Safety, Health, and Security Department for the Association of Flight Attendants (a labor union that represents nearly 50,000 cabin crew members at 17 U.S. airlines), clearly outlines an insightful perspective about the many challenges faced by these frontline workers in aviation. She aptly covers several facets of risk faced by this group which includes:
a) ventilation and air supply on aircraft and its implications for potential disease transmission of "infectious aerosol particles."
b) universal face mask policies (which are no longer in place) and aggressive passengers that do not comply (whether through passive noncompliance or through more active, disruptive actions which can be characterized as "threatening, violent, or abusive behavior"). Worse still, has been the lack of enforcement or willingness to hold offenders accountable by law enforcement to prevent future recurrences on other flights.
c) quarantine and contact tracing limitations by physical space and ability to identify exposure.
d) vaccination requirements for employees and incentives to comply, including obtaining priority access to vaccines; on the passenger side, there is a general lack of knowledge about passengers' vaccination status.
B. View from the field of education
Cowger and colleagues 3 examined the effects of lifting universal masking and the benefits of those policies, which are encouraged in many school settings. While impossible to inventory a comprehensive "spectrum of benefits" versus the most common critiques levied against mask adoption, the authors provided compelling evidence for its benefits to protect educational frontline workers. They "observed greater benefits of sustaining masking among staff, a finding that emphasizes that universal making is an important component of comprehensive workplace protections for staff, who may be at higher risk for severe COVID-19 than students (p. 10)."
III. Prioritizing the health of the worker is good business
In closing, whether one chooses to wear a mask or not is a matter of perspective that will not be settled at the time of this writing. Nevertheless, it is worth noting that the power of choice is clearly a matter of one's vantage point—one that transcends voluntary compliance and speaks to a level of stewardship and interdependence that is not often discussed when considering policy adoption. I would argue that frontline workers should have the right to exercise their option to wear masks at work for the potential benefits outlined by the Centers for Disease Control and Prevention (CDC) for their routine use in conveyances and at transportation hubs and in any other setting (like education, etc.) where interactions with the public are essential to safely operating those systems and providing quality delivery services.
Author Bio
Karl J. McCleary, PhD, MPH
Dr. McCleary is the Associate Dean for Strategy, Director of the Center for Health Strategy and Innovation, and Professor of Health Policy and Leadership at Loma Linda University School of Public Health. His research interests include health policy; transformation and strategic change; innovation, systems thinking and redesign; and population health.
References:
Baran, M. (2022, November 11). How to stay health this holiday travel season amid COVID, Flu, and RSV. AFAR. Retrieved from https://www.afar.com/magazine/how-to-stay-healthy-during-holiday-travel.
Centers for Disease Control and Prevention (2022). Order: Wearing of face masks while on conveyances and at transportation hubs. Retrieved from https://www.cdc.gov/quarantine/masks/mask-travel-guidance.html
Anderson, J. (2022). COVID-19 in the airline industry: The good, the bad, and the necessary. New Solutions: A Journal of Environmental and Occupational Health Policy, 32(2), 92-99. https://doi.org/10.1177/10482911221101429.