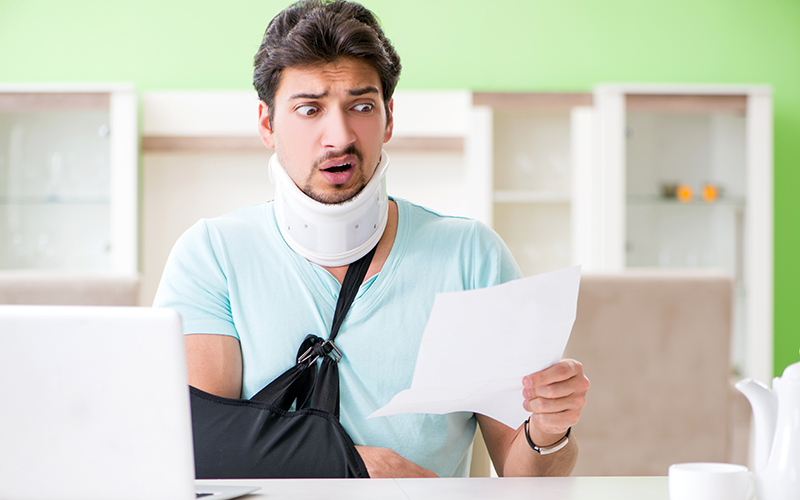 By IHPL - March 16, 2020
Imagine you were in a car accident and an ambulance is now taking you to a nearby hospital. Perhaps you have broken bones, bleeding, or worse—are unconscious. Fortunately, your ambulance takes you to a hospital that is in your health insurer's provider network.
Then imagine your surprise when you receive a bill from one or more doctors who cared for you while at the hospital because they are not in your network of approved physicians. Your bill comes to thousands of dollars. This is known as "surprise billing" or "drive-by-doctoring."
An Industry Fraught with Uncertainty
It is impossible to predict what treatments and diagnostics are needed before the patient is rolled through the emergency department or hospital door. An episode of care continually evolves, along with associated care costs.
The implementation of managed care and preferred provider organizations encouraged contracting as well as fee and price negotiations to curb costs. Due to perceived unfavorable pricing and reimbursement issues, some physicians and specialists (such as radiologists, anesthesiologists, pathologists or surgeons) "freelance" with hospital systems that have staff shortages. They are not part of plan networks but work as an independent provider, not constrained by the hospital's chargemaster. These providers bill separately, often at levels much higher than what is "reasonable and customary" in the community.
Once one's insurer pays the charges stipulated in the network schedule, it is up to the patient to pay the difference between what the plan pays and what is charged by the out-of-network provider. Healthcare industry calls this "balanced billing." Patients call it a "surprise." Such practices are an unfortunate but common occurrence in the United States – and are perfectly legal.
State and Federal Efforts to Address Surprise Medical Bills
Because of consumer outcry, federal and state governments have wrestled with this issue for years. Some states successfully passed legislation to protect people with commercial health plans from balance billing, particularly in emergency situations when a patient cannot voluntarily choose in-network providers.
California has been particularly progressive in instituting laws in this area. In furnishing emergency services, excess out-of-network charges must be paid by the patient's plan, not the patient. For example, a 2016 California law mandates that patients with commercial health plans pay no more than the in-network charge for services provided by out-of-network providers working in an in-network facility. Costs above in-network rates must be worked out between the out-of-network provider and the patient's insurance plan, not the patient. Legislation passed in 2017 places further restrictions on what can lawfully be charged by out-of-network providers.
The federal government has bills pending, restricting how much out-of-network services can be charged to insurance plans with specified networks. It is important to note; these laws apply only to commercial health plans. They do not apply to "self-insured" models of coverage. Self-insured plans are offered through work, where employers pay for their employees' healthcare costs. Such plans are regulated by federal, not state, government and apply to roughly 50 percent of U.S. health plans.  The federal government is also looking at how to protect those enrolled in self-insured models from surprise billing.
While consumers are naturally appalled by the potential financial ruin imposed by unexpected, involuntary out-of-network charges, legislation that severely limits what can be charged on any level may have consequences. Some policymakers believe that limits on what providers can collect will reduce competition and level prices charged among providers. It is also theorized that these laws will encourage increased contractual arrangements among a wider variety of healthcare facilities within states and regions. Others believe it can lead to significantly increased healthcare premiums for consumers because providers and healthcare facilities may inflate charges to preemptively recoup revenue expected to be lost under such provisions.
What Consumers Can Do Today
In the interim, it is essential for consumers to ask questions, when feasible, about all potential providers that may be assigned to their care and be informed as to who is or is not in their plan's network. If a provider is not within the network, ask if a comparable provider is within network and request that provider. Ask for an upfront estimate of costs if a provider is out-of-network and petition your plan to negotiate coverage at in-network rates if an alternative provider is not available.
Conclusion
Increasingly, states are developing legislation to minimize the trauma of surprise bills. Carefully crafted, well-conceived legislation should serve both consumers and health plans with sensible, realistic stipulations leading to fiscal soundness for all.
---
Author Bio:

Ellen D'Errico, PhD, RN, NEA-BC
Dr. D'Errico is the program director for the PhD in nursing program at Loma Linda University School of Nursing. She has been an active member of the Association of California Nurse Leaders having co-chaired the research committee, was a 10-year board member of the San Bernardino County Gangs and Drugs Taskforce, and past president of the Gamma Alpha Chapter of Sigma Theta Tau International, the honor society of nursing. Her research interests include cancer survivorship and health care workforce issues.
---
References:
Auth Doesn't Match Service? Expect Claim Denial: Lost revenue, surprise medical bills. (2017). Hospital Access Management, 36(9), 4-6. Retrieved from http://0-search.ebscohost.com.catalog.llu.edu/login.aspx?direct=true&db=ccm&AN=124742480&site=ehost-live&scope=site
S, L. (2018). Avoid Medical Bill Surprises: Protect yourself from unexpected expenses. Arthritis Today, 32(1), 46-46. Retrieved from http://0-search.ebscohost.com.catalog.llu.edu/login.aspx?direct=true&db=ccm&AN=127013392&site=ehost-live&scope=site
Chartock, B., Garmon, C., & Schutz, S. (2019). Consumers' Responses To Surprise Medical Bills In Elective Situations. Health Affairs, 38(3), 425-430. doi:10.1377/hlthaff.2018.05399
Bindman, A. (2018). Curbing Surprise Medical Bills Can Be a Window Into Cost Control. JAMA: Journal of the American Medical Association, 320(20), 2065-2066. doi:10.1001/jama.2018.17418
Berke, D. M. (2016). Drive by doctoring:  Contractual issues and regulatory solutions to increase patient protection from surprise medical bills. American Journal of Law & Medicine, 42(1), 170-189. doi:10.1177/0098858816644720
Steinbrook, R. (2019). Ending Surprise Medical Bills. JAMA Internal Medicine, 179(11), 1465-1466. doi:10.1001/jamainternmed.2019.3382
Baker, J. P. (2018). ERISA Litigation's 'Nightmare on Elm Street': Surprise Medical Bills. Benefits Law Journal, 31(1), 89-94. Retrieved from http://0-search.ebscohost.com.catalog.llu.edu/login.aspx?direct=true&db=buh&AN=128568150&site=ehost-live&scope=site