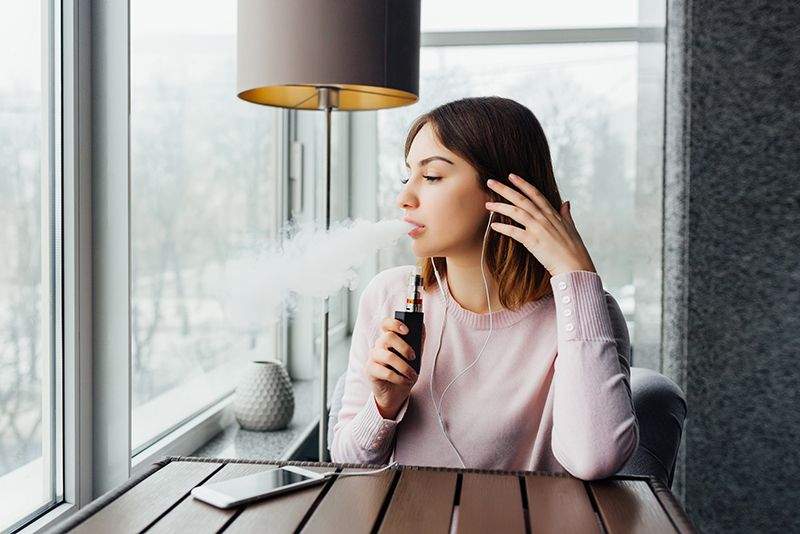 By IHPL - November 7, 2018
E-Cigarette Basics
Electronic Cigarettes (e-cigarettes) are battery-operated devices that contain a cartridge with liquid, a heating element, and a battery. The heating element warms the liquid, usually containing nicotine, to create a vapor that is inhaled; hence the term "vaping."1 The term "dripping" has also been used to describe the process of dripping liquid directly onto the heating element to create a cloud of vapor that can be inhaled. The main difference between conventional cigarettes and e-cigarettes is the combustion of tobacco in conventional cigarettes versus the vaporization of nicotine-containing liquid in e-cigarettes.2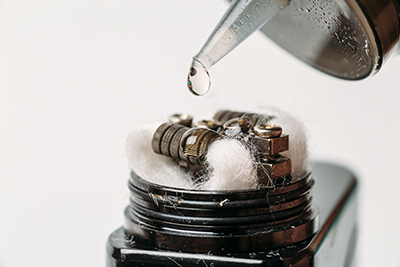 The Evolution of E-Cigarettes
E-Cigarettes first entered the U.S. market in 2006 and have since continued to evolve. First generation products resemble conventional cigarettes and are disposable and reusable.  Second generation products are larger in size with a stronger battery and allow customization of the frequency and length of puffs. Third generation products are even more customizable and are referred to as "personalized vaporizers." The newest devices to hit the market are "Pod-mods" that resemble USB flash drives and are produced by popular companies such as JUUL. "Pod Mods" have gained increasing popularity among adolescents because of their small size and ability to go unnoticed in school settings. 1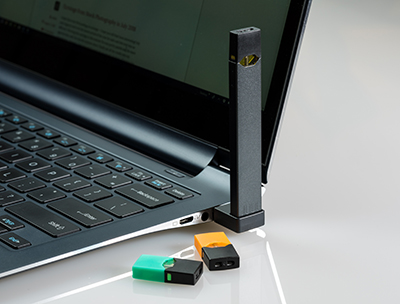 Liquid Components of E-Cigarettes
Component #1: Nicotine. The nicotine content in e-cigarette liquids varies by product and can range from zero (nicotine-free) to 36 mg/ml. The most common concentrations are 6, 12, 18, and 24 mg/ml. However, there have been inconsistencies between the level of nicotine actually found in the product and the level listed in the manufacturer's label.
The dosage of nicotine in a traditional cigarette compared to an e-cigarette is concerning. A conventional cigarette contains about one mg of absorbed nicotine. There is usually more than one mg of total nicotine in a conventional cigarette but only about fourteen percent is inhaled.2 In contrast, an e-cigarette cartridge can hold about 20 mL of liquid. If one mL of liquid contains 24 mg of nicotine, then the entire liquid cartridge contains 480 mg of nicotine. An average user may smoke about 5 ml per day, which equates to potentially 120 mg of nicotine exposure or six packs per day if we assume 100 percent is absorbed.2 There have been reports of 60 to 70 percent absorption from e-cigarettes, which equate to 72 to 84 mg of nicotine per day.2 In a traditional smoker this would be approximately four packs per day!
Component #2: Propylene Glycol/Glycerol. This substance is used to reduce the liquid's loss of moisture.
Component #3: Flavorings. Thousands of flavors are available which may increase the attractiveness to youth, such as Cool Cucumber, Fruit Medley, Mango, and Mint. The Centers for Disease Control and Prevention (CDC) reports, "from 2012 to 2016, flavored e-cigarette sales as a percentage of all e-cigarette sales increased nationally from 2.4 percent to 19.8 percent."3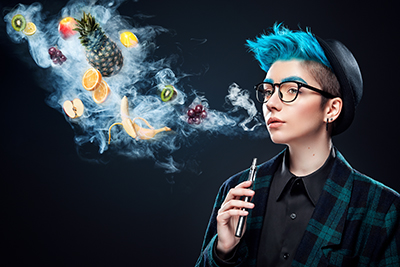 Component #4: Other compounds. Multiple other compounds such as tin, lead, nickel, chromium, manganese and arsenic have been found in e-cigarettes.
Not Just Nicotine
The use of e-cigarettes for marijuana rather than nicotine is also becoming a growing concern. Vaporization of marijuana leaves very little odor and little smoke, allowing teens to use the substance discretely, often on school grounds 2. Furthermore, it is very difficult to distinguish between cartridges containing nicotine and marijuana.

Nicotine and babies
Although aerosolized e-cigarettes may have less harmful chemicals than traditional cigarette smoke, the use of nicotine during pregnancy is not safe. 2,4 Nicotine is a health hazard for pregnant women and can cause damage to a baby's developing brain and lungs.
Patterns of Use Among Adolescents
Ten to thirteen percent of high school students reported using e-cigarettes in 2016.1 These figures likely underestimate the actual use of e-cigarettes because tobacco surveys may not contain terms that youths use for e-cigarette such as "julling." In a survey of eight high schools, 25 percent of e-cigarette users have used them for "dripping."1
For those who are not established conventional cigarette smokers, the use of e-cigarettes raises the risk of establishing nicotine dependence and transitioning to conventional cigarettes in a process known as the "gateway effect." A study of 17,389 adolescents and young adults between 14 to 30 years of age showed that 31 percent of e-cigarette users transitioned to conventional cigarette use versus eight percent in those with no e-cigarette use.1
These statistics indicate that we must do a better job to educate teenagers about the dangers of nicotine and e-cigarettes. Nicotine is a highly addictive substance that enters the brain in 10 to 20 seconds.1,2 Overcoming nicotine addiction is comparable to cocaine and heroine. The addictive nature of nicotine and the customization of e-cigarettes, combined with the experimental mentality during adolescence, create a recipe for disaster.
Biologically, nicotine can have a profound impact on the adolescent brain. Smoking during adolescence can increase the chance of developing psychiatric disorders and cognitive impairments along with attention deficits later in life.2
E-Cigarettes' Role in Smoking Cessation
There is limited available evidence to suggest that e-cigarettes may be used for smoking cessation but more trials are needed. While e-cigarettes may be more popular because they allow for the hand to mouth ritual of smoking, e-cigarettes could deter smokers from other smoking cessation medications with known safety and efficacy. The reduction in conventional cigarette use could be offset by the long-term adverse effects of e-cigarette use.1
Stopping the use of both conventional and e-cigarettes is the preferred and ultimate goal.
Nicotine Poisoning
E-Cigarette fluids may contain zero (nicotine-free) to 36 mg/ml of nicotine. This is concerning because the lethal dose of nicotine in children is about 10 mg. The numbers of e-cigarette related calls to U.S. poison control centers has increased substantially from one per month in 2010 to 215 per month in 2014.1
Regulation
There have been increased concerns around the marketing of e-cigarettes to teenagers from agencies such as the Food and Drug Administration (FDA) and the American Academy of Pediatrics (AAP). E-cigarettes cannot be sold to anyone younger than 18, but there are more than 2 million middle and high school users, according to the FDA.5
In September 2018, the FDA gave 60 days to five leading e-cigarette manufactures, including JUUL, to submit plans on addressing youth use of their products. The AAP expressed their concerns over this time course and recommended more immediate actions to regulate all e-cigarettes.5
Being Informed and Having the Conversation
It is important for parents and caretakers to discuss the use of e-cigarettes with their children. Having this conversation can be daunting and it is important to know the facts. The following websites can help with starting the conversation:
Center for Disease Control and Prevention, Health Risks and FAQ's
Center for Disease Control and Prevention, Keep Kids E-Cigarette-Free
Author Bio: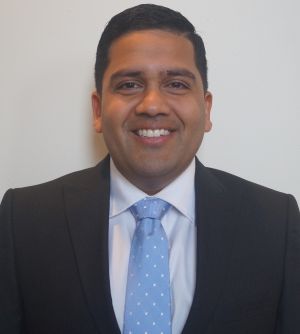 Saisho Mangla, DO, is a board-certified pediatrician who is pursuing further training in preventive medicine and public health at Loma Linda University
References:
Rigotti, N., & Kalkhoran, S. (2018). E-cigarettes. J.A. Melin (Ed.), UpToDate. Retrieved October 17,2018, from https://uptodate.com/contents/ecigarettes
Williams, C. E Cigarettes and Teens A Guide for Parents. Safe Kids America. February 2014. http://www.rfhalliance.org/MunicipalAlliance/downloads/E-cigarettesGuide.pdf
 Kuiper NM, Loomis BR, Falvey KT, Gammon DG, King BA, Wang TW, et al. Trends in Unit Sales of Flavored and Menthol Electronic Cigarettes in the United States, 2012–2016. Prev Chronic Dis 2018;15:170576. DOI: