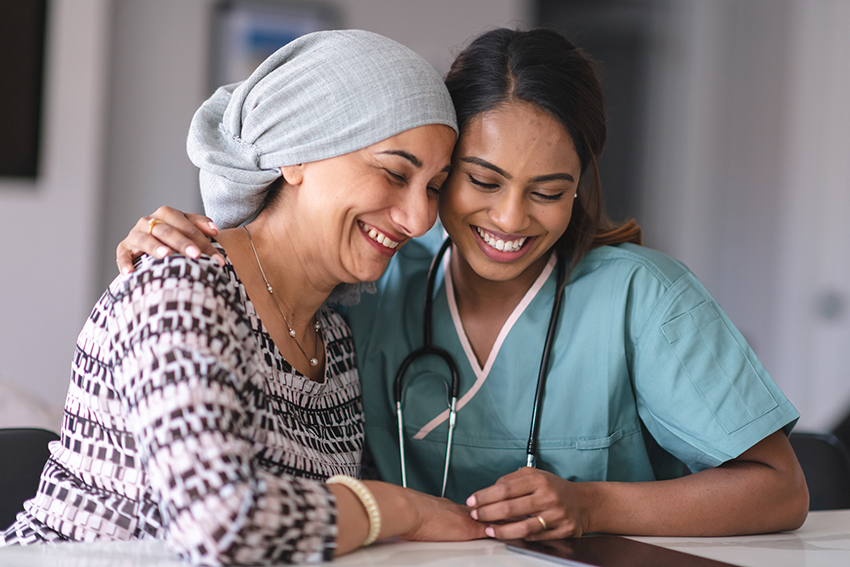 By IHPL - April 4, 2022
With an aging population, the incidence of chronic illness surpasses the research advances to cure them. Among these chronic diseases, cancer stands out as a particularly challenging disease that was highlighted in the recent Presidential State of the Union address. With progress in cancer treatment, patients may be living longer, but with severe consequences to their quality of life and survivorship due to the psychosocial stress surrounding their diagnosis and treatment. Studies on psychological well-being in cancer patients have highlighted that these patients suffer from significant depression and anxiety.1,2 Cancer symptoms including pain, fatigue, and sleep disturbance add to psychosocial stress3-5 and decrease quality of life and survival.6,7 Aside from these cancer symptoms, patients may also have predisposing psychosocial factors prior to their diagnosis that affect their cancer outcomes—including their socioeconomic status and previous major adverse life events.
Among the cancer symptoms, cancer pain is most difficult to treat; pain places the patient at high risk for opioid dependence, which worsens their survival.6,8 Cancer patients represent a growing group of people who live with chronic pain. More than 50% of cancer patients have inadequately controlled pain.9 Under-treatment of pain is a widespread problem worldwide.9-11 Cancer patients with poorly controlled pain are much more likely to suffer from opioid dependence or addiction,12-15 which further perpetuates psychosocial stress, leads to poor outcomes, and adds to the growing national opioid epidemic that was also brought up in the State of the Union address. Whereas dependence is a physical need for opioids to control pain, addiction constitutes an overwhelming need to use opioids for its euphoric effects and an inability to control the amount used.
A major determinant of opioid addiction is previous major life stressors,16 including socioeconomic status. We are beginning to realize the impact of these major life stressors on health beyond their association to depression or anxiety.17-20 Recently, researchers have defined a stress-related gene expression biomarker, called the conserved transcriptional response to adversity (CTRA), which involves increased expression of pro-inflammatory genes and decreased expression of genes involved in the immune response.21 With the lockdown during the COVID-19 pandemic and its effects on social interactions, the same research group determined that social isolation resulted in a 30-50% reduction in immune cells, leading to an immunocompromised state.22 This body of work establishes for the first time a molecular pathway in which psychosocial well-being impacts the physiology of chronic diseases.
Given the complex interactions of life stressors, social isolation, and socioeconomic status with symptoms and opioid dependence in cancer patients, cancer research that focuses on the cancer process alone might fail to capture these other major determinants of survival in patients. It is increasingly clear that proper whole person care requires acknowledgement of psychosocial stressors that have traditionally not been measured. Research on the biological role of these social determinants of health on cancer outcomes has a potential profound impact on our two national health crises: cancer and opioid abuse.
---
Author Bio: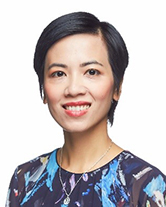 Chi Viet, DDS, PhD, MD
Dr. Chi Viet is a surgeon scientist focused on head and neck cancer management. She serves as an Associate Professor of Oral Maxillofacial Surgery at the School of Dentistry as well as the School of Medicine. Her extensive research experience and interests include head and neck carcinogenesis, neurobiological basis of symptoms faced by head and neck cancer patients, and epigenetic pathways of head and neck cancer.
---
References:
Miaskowski C, Dodd M, Lee K, West C, Paul SM, Cooper BA, Wara W, Swift PS, Dunn LB, Aouizerat BE. Preliminary evidence of an association between a functional interleukin-6 polymorphism and fatigue and sleep disturbance in oncology patients and their family caregivers. J Pain Symptom Manage. 2010;40(4):531-544.
Miaskowski C, Aouizerat BE. Biomarkers: symptoms, survivorship, and quality of life. Seminars in oncology nursing. 2012;28(2):129-138.
Erickson JM, Macpherson CF, Ameringer S, Baggott C, Linder L, Stegenga K. Symptoms and symptom clusters in adolescents receiving cancer treatment: a review of the literature. Int J Nurs Stud. 2013;50(6):847-869.
Dong ST, Butow PN, Costa DS, Lovell MR, Agar M. Symptom clusters in patients with advanced cancer: a systematic review of observational studies. J Pain Symptom Manage. 2014;48(3):411-450.
Kirkova J, Aktas A, Walsh D, Davis MP. Cancer symptom clusters: clinical and research methodology. J Palliat Med. 2011;14(10):1149-1166.
Temel JS, Greer JA, Muzikansky A, Gallagher ER, Admane S, Jackson VA, Dahlin CM, Blinderman CD, Jacobsen J, Pirl WF, Billings JA, Lynch TJ. Early palliative care for patients with metastatic non-small-cell lung cancer. N Engl J Med. 2010;363(8):733-742.
van den Beuken-van Everdingen MH, Hochstenbach LM, Joosten EA, Tjan-Heijnen VC, Janssen DJ. Update on Prevalence of Pain in Patients With Cancer: Systematic Review and Meta-Analysis. J Pain Symptom Manage. 2016;51(6):1070-1090 e1079.
Portenoy RK, Sibirceva U, Smout R, Horn S, Connor S, Blum RH, Spence C, Fine PG. Opioid use and survival at the end of life: a survey of a hospice population. J Pain Symptom Manage. 2006;32(6):532-540.
van den Beuken-van Everdingen MH, de Rijke JM, Kessels AG, Schouten HC, van Kleef M, Patijn J. Prevalence of pain in patients with cancer: a systematic review of the past 40 years. Ann Oncol. 2007;18(9):1437-1449.
Hammerlid E, Bjordal K, Ahlner-Elmqvist M, Boysen M, Evensen JF, Biorklund A, Jannert M, Kaasa S, Sullivan M, Westin T. A prospective study of quality of life in head and neck cancer patients. Part I: at diagnosis. Laryngoscope. 2001;111(4 Pt 1):669-680.
van den Beuken-van Everdingen MH, de Rijke JM, Kessels AG, Schouten HC, van Kleef M, Patijn J. High prevalence of pain in patients with cancer in a large population-based study in The Netherlands. Pain. 2007;132(3):312-320.
Buffum D, Koetters T, Cho M, Macera L, Paul SM, West C, Aouizerat B, Dunn L, Dodd M, Lee K, Cooper B, Wara W, Swift P, Miaskowski C. The effects of pain, gender, and age on sleep/wake and circadian rhythm parameters in oncology patients at the initiation of radiation therapy. The journal of pain : official journal of the American Pain Society. 2011;12(3):390-400.
Dodd MJ, Cho MH, Miaskowski C, Painter PL, Paul SM, Cooper BA, Duda J, Krasnoff J, Bank KA. A randomized controlled trial of home-based exercise for cancer-related fatigue in women during and after chemotherapy with or without radiation therapy. Cancer Nurs. 2010;33(4):245-257.
Glover J, Dibble SL, Dodd MJ, Miaskowski C. Mood states of oncology outpatients: does pain make a difference? J Pain Symptom Manage. 1995;10(2):120-128.
Florence CS, Zhou C, Luo F, Xu L. The Economic Burden of Prescription Opioid Overdose, Abuse, and Dependence in the United States, 2013. Med Care. 2016;54(10):901-906.
Swedo EA, Sumner SA, de Fijter S, Werhan L, Norris K, Beauregard JL, Montgomery MP, Rose EB, Hillis SD, Massetti GM. Adolescent Opioid Misuse Attributable to Adverse Childhood Experiences. J Pediatr. 2020;224:102-109 e103.
Chida Y, Steptoe A. Positive psychological well-being and mortality: a quantitative review of prospective observational studies. Psychosomatic medicine. 2008;70(7):741-756.
Cohen S, Alper CM, Doyle WJ, Treanor JJ, Turner RB. Positive emotional style predicts resistance to illness after experimental exposure to rhinovirus or influenza a virus. Psychosomatic medicine. 2006;68(6):809-815.
Koizumi M, Ito H, Kaneko Y, Motohashi Y. Effect of having a sense of purpose in life on the risk of death from cardiovascular diseases. J Epidemiol. 2008;18(5):191-196.
Steptoe A, Shankar A, Demakakos P, Wardle J. Social isolation, loneliness, and all-cause mortality in older men and women. Proc Natl Acad Sci U S A. 2013;110(15):5797-5801.
Fredrickson BL, Grewen KM, Coffey KA, Algoe SB, Firestine AM, Arevalo JM, Ma J, Cole SW. A functional genomic perspective on human well-being. Proc Natl Acad Sci U S A. 2013;110(33):13684-13689.
Cole SW, Cacioppo JT, Cacioppo S, Bone K, Del Rosso LA, Spinner A, Arevalo JMG, Dizon TP, Capitanio JP. The Type I interferon antiviral gene program is impaired by lockdown and preserved by caregiving. Proc Natl Acad Sci U S A. 2021;118(29).