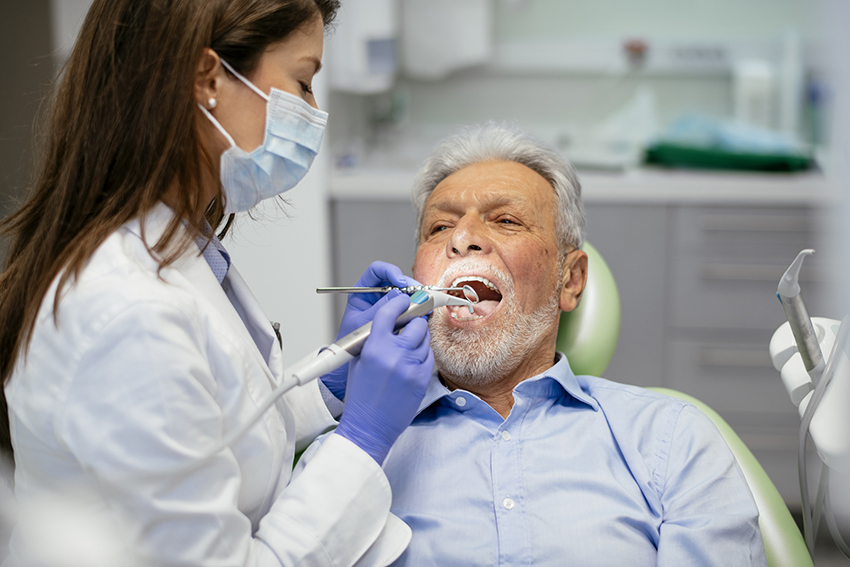 By IHPL - March 16, 2022
In his recent blog on this site, Dr. Karl McCleary described the growing societal support for the concept of "whole person health."[i] The blog's author is right. Both the language and the model of holistic care are gaining practical momentum. Mounting evidence indicates that integrative health care is better than treating individual "body parts." Care that accounts for the interconnected factors, including social conditions, that affect health is more efficient and effective. Health care insurance companies and health systems are also realizing the marketing value of an integrated approach.[ii] It sells well.
Against this popular tide, there is at least one anomaly that becomes ever more glaring. And it deserves both our puzzlement and our attention. It is the odd failure to integrate oral health care in the usual list of essential primary care. As a Swedish friend said to me recently, "Even here in my country, we seem to forget that the mouth is part of the body." Basic dental care is often left out, or only marginally included, in health care coverage. I'm reminded of a cartoon in which a dentist, depicted as a lion, is explaining to his patient, an elephant, that its dental plan doesn't include tusks (see the cartoon below).
The reasons for considering oral health care somehow more optional or less essential are, no doubt, complex. Traditional attitudes within the culture I know best often seem to relegate oral health care to the realm of "nice but not necessary." This is true despite the mountain range of evidence indicating that excellent, overall health depends on good oral health.[iii]
While progress has been made toward the goal of more accessible oral health care, there is still a long way to go. The 2019 "Oral Health Surveillance Report" from the Center for Disease Control and Prevention details advancement on a number of fronts, such a modest reduction in the number of carious teeth in children.[iv] But the report also details major oral health inequities among poor and marginalized persons in America. These inequities are especially noteworthy among older Americans for whom decades of inadequate dental care often lead to disastrously poor oral health. For example, one in six older Americans have lost all of their teeth.4
One of the more glaring exceptions to whole person oral health care is the deliberate exclusion of most dental care from traditional Medicare.[v]  According to current federal law, Medicare excludes dental coverage unless it is a necessary procedure for "inpatient hospital services."[vi] For example, if an accident results in a fractured jaw that leads to hospitalization, then repair of the injury is covered by Medicare. Applications of this rule can lead to some strange contradictions. For example, Medicare will pay for dental exams preceding kidney transplantation or heart valve replacement but will not pay for dental treatment prior to such medical procedures. Thus, when it comes to most dental care, older citizens with Medicare coverage are on their own. This is true even if the dental disease is significantly jeopardizing overall health.
Today, there is a growing movement advocating change in Medicare coverage to include medically necessary dental care. According to the Center for Medicare Advocacy, "medically necessary oral health care" is defined as treatment "deemed necessary by a physician when a patient's medical condition or treatment is or will likely be complicated by an untreated oral health problem."[vii] The reasons for the proposed policy change seem both obvious and compelling. In fact, scores of professional health care organizations, including the American Medical Association and the American College of Physicians, have offered their support.[viii] In their "community statement," these organizations affirm that "The Medicare program and all its beneficiaries should not be without the vital clinical and fiscal benefits of coverage for medically necessary oral/dental health therapies."[ix]
When this change in policy finally comes, millions of older Americans will be a significant step closer to whole person oral health care.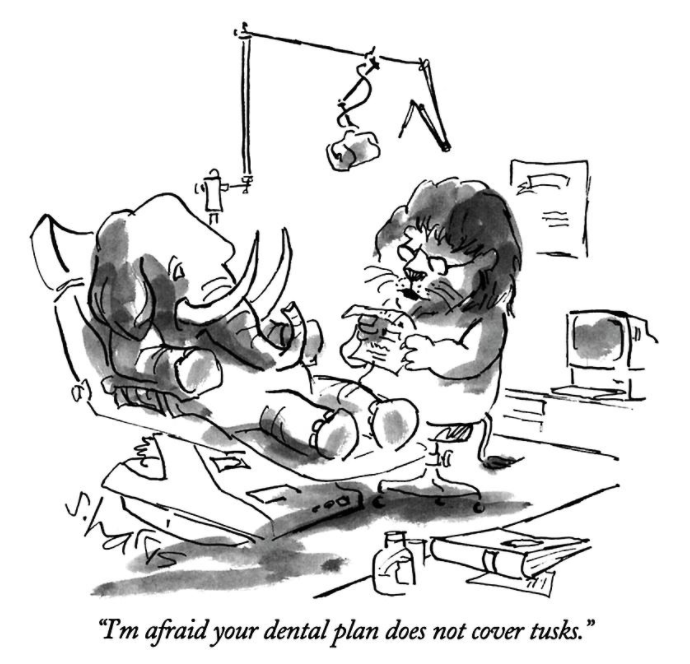 https://pixels.com/featured/im-afraid-your-dental-plan-does-not-cover-tusks-sidney-harris.html
---
Author bio: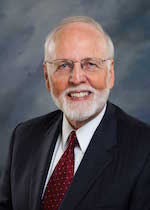 Gerald Winslow, PhD
Dr. Winslow is the Founding Director of the Institute for Health Policy and Leadership, Director of the Center for Christian Bioethics, and Professor of Religion at Loma Linda University School of Religion. His research interests include biomedical ethics and the relationship of social ethics to health policy.
---
References: