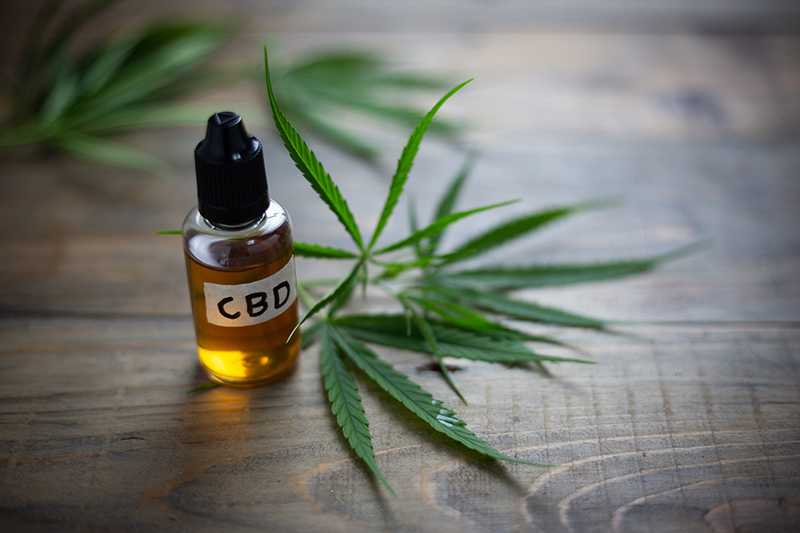 By IHPL - May 10, 2019
This stuff is everywhere. They are in hard candies, chocolates, cookies, lattes, smoothies, treats for pets, and even in gummies for kids. Carl's Jr. is testing it out in their burger. Coca-cola is considering it in their new wellness drink. If you're thinking acai, you are wrong. The stuff I am talking about is called Cannabidiol, more commonly known as CBD.
What is CBD (Cannabidiol)?
CBD is one of more than 80 naturally occurring compounds found in the cannabis plant.1 Delta-9-tetrahydrocannabinol (THC) is the main psychoactive chemical in cannabis that produces the "high" effect, but CBD is not psychoactive and hence does not produce a "high."2
Although many people use cannabis, hemp, and marijuana interchangeably, they are not the same thing. Cannabis is a family of plants while hemp and marijuana are members of this family. One of the differences between hemp and marijuana is the concentration of THC; hemp contains 0.3 percent or less of THC while marijuana contains between 15 to 40 percent of THC.3
This is why hemp is often produced for commercial use and marijuana is grown for recreational and medicinal use. CBD can come from both hemp and marijuana.
What are CBD's health effects?
Many believe that CBD offers various health benefits with few side effects and low potential for abuse.4 According to the World Health Organization, CBD is an effective treatment of epilepsy.5 CBD also does seem to reduce pain and anxiety.1 However, many of its health claims are scientifically untested and there is insufficient research data to back up its use for conditions such as bipolar disorder, diabetes, Huntington's disease, sleeplessness, multiple sclerosis, Parkinson's disease, schizophrenia, and smoking cessation.1,2
In its Morbidity and Mortality Weekly Report, the Centers for Disease Control and Prevention (CDC) reported cases of acute poisonings in people who consumed products marketed as CBD but actually contained synthetic cannabinoids.6 Synthetic cannabinoids are synthetic marijuana, which can cause nausea, vomiting, suicidal thoughts, violent behavior, paranoia, and hallucination. Synthetic marijuana's unpredictable effects can sometimes also be life-threatening.7,8
How is CBD regulated in the US?
While THC-containing marijuana is illegal at the federal level, medical marijuana is legal in 33 states and the District of Columbia, and recreational marijuana for adults over 21 years of age is legal in ten states plus Washington, DC.9,10 The production of CBD is not regulated in the United States and, as a result, CBD products vary widely in quality.
Did you know?
Marijuana is now legal in Canada, and Mexico is moving to decriminalize
marijuana use at the federal level.14
However, many changes are happening at the federal level in response to CBD's growing popularity. The Agriculture Improvement Act of 2018 (the Farm Bill) which was signed into law last December, legalized hemp nationwide by removing it from the Controlled Substances Act.11 In September 2018, the Drug Enforcement Administration (DEA) placed FDA-approved, CBD-containing drug products with less than 0.1 percent of THC in schedule V of the Controlled Substances Act.12 And this April, the Food and Drug Administration (FDA) announced plans to evaluate potential ways to regulate CBD in dietary supplements, conventional foods, animal foods and drugs, cosmetics, and others.11 To this end, the FDA will hold a public hearing on May 31st to hear from stakeholders and gather written public comments.
Did you know?
Controlled substances are divided into five "schedules" based on their accepted medical use and potential for abuse. For instance, Schedule I substances (such as marijuana, LSD and ecstasy) are generally illegal while Schedule V substances include limited amounts of certain narcotics found in cough syrups. Morphine, codeine, opiates, oxycodone and other well-known painkillers are Schedule II drugs. Although Schedule II drugs can be legally obtained through a prescription, they have a very high risk for abuse.
How is CBD regulated in California?
CBD products are not approved in food, food ingredient, food additive, or dietary supplement in California.13 Because CBD from hemp is not approved as a food additive, hemp CBD cannot be added to human or animal foods in California.13 And since California legalized recreational use of Marijuana starting January 1, 2018, marijuana CBD is regulated as a "cannabis product"- this means that it may only be "sourced from, produced, and sold by those with commercial cannabis license" and cannot be sold in retail food stores.13  
The FDA only recently announced plans to regulate CBD products, which are currently easily accessible online and in stores. In the meantime, it is up to the consumers to assess the products' efficacy, quality, and safety for consumption. According to Forbes, CBD users usually take between 120 to 160 milligrams of CBD daily and ten percent of users can test positive for THC, potentially barring them from employment and other opportunities. It is time for federal agencies and legislators to take action so consumers are not caught in the middle while relevant policies catch up to CBD's popularity.
---
Author bio

Helen Jung, DrPH, MPH
Dr. Helen Jung is the Senior Health Policy Analyst for IHPL and serves as an Assistant Clinical Professor in Loma Linda University's School of Public Health. She conducts policy research and analysis as well as developing publications on key policy issues for the Institute and the Adventist Health Policy Association. Dr. Jung received her Doctorate in Health Policy and Management from UCLA's Fielding School of Public Health and holds a Master of Public Health from the University of Michigan, Ann Arbor.
For more information, contact Helen at: helenjung@llu.edu.
---
References: