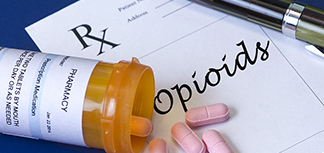 By IHPL - May 3, 2016
Editorial Note: For the month of May, we will feature three articles on opioid prescription abuse by Dr. Gregory Olson. The next installment will be available Monday, May 16th.
For further information on help and treatment, please visit Substance Abuse and Mental Health Services Administration's website (www.samhsa.gov/find-help)
---
Opioid Abuse Part 1: Headlines and Policy
Educators of health care professionals are increasingly asked to reexamine their curricula on opioids to increase awareness of abuse and best practice among graduates. Three weeks ago, I consulted the American Dental Education Association (ADEA) in Washington, DC, on their policy agenda. In this meeting, President Obama's 2016 press release on opioid abuse drew more attention than any other policy topic.
Background
While attention to prescription drug abuse isn't new and government policies already exist, numerous reports suggest the numbers of prescriptions, abusers and deaths are rising.
To deal with this epidemic, the White House refocused its previous policy by prioritizing the problem of prescription opioid drug abuse.1 The President requested $1.1 billion in new mandatory funding; bipartisan support for this problem has produced an unfunded Senate bill while a similar bill is progressing in the House.
The media is abuzz with features highlighting prescription drug abuse. National Public Radio (NPR) aired The House, a podcast that interviewed addicts whose HIV infection rates were linked to prescription opioids and chronic pain.2 Rumors are also circulating that pop star Prince's death might even be related to prescription pain drugs. High-profile headlines like these about overdose deaths have been regular over the years.
The Numbers—Opioid Abuse
The Centers for Disease Control and Prevention reported 47,055 drug overdose deaths in the United States in 2014. Setting a new record, this figure is almost 4 times the number reported in 1999. The majority of these drug overdose deaths involved an opioid and over half were attributed to prescription opioids.3 Also during 2014, nearly two million Americans either abused or were dependent on prescription opioid pain relievers.4
Curiously, U.S. prescription opioid sales have nearly quadrupled from 1999 to 2014.5 In 2012, the specific numbers of prescriptions varied across the country with the Southern and Midwestern states leading the pack. With 143 prescriptions per 100 persons, Alabama and Tennessee had the most while Hawaii and California had the least (52 and 57 per 100 persons, respectively).6 In 2011, family physicians prescribed 15 percent and dentists 12 percent of immediate-release opioids like hydrocodone and oxycodone.7
What is the Heart of the Problem?
The rising volume of opioid prescriptions in states with the highest overdose has led some to speculate about the "culture of availability." Indeed, researchers at Johns Hopkins found that opioid prescriptions far outpaced non-opioid prescriptions between 2000 and 2010.8 More than 70 percent of nonmedical opioid abusers obtain the drug from family or friends with prescriptions.9
The reason for this rise in prescriptions is not conclusive. Is pain more prevalent in the U.S.? Are states with more prescriptions experiencing more pain relief than others? Are individuals with pain and legitimate opioid prescriptions becoming the bulk of the addiction group? Part of the President's opioid abuse agenda is to sponsor research answering some of these questions. As health care academicians and providers, we have an opportunity to contribute.
I tried to gain perspective by talking with a physician friend in Tennessee who told me that the problem goes back over 20 years. In response to the state's increased access to health care, an influx of low income, uninsured (or underinsured) individuals moved to Tennessee. He went on to say that these patients had more chronic pain and ended up staying when the access model didn't catch on in other states.
My friend noted that a legislation tightening the monitoring of opioid and other pain drugs has been passed. Most doctors responded to this legislation by providing fewer pain prescriptions and referring patients to larger pain clinics. As a result, people in pain went under-treated and "pill mills" arose to meet the demand. The literature corroborates this doctor's account though debate abounds.
Over the last three weeks, I have been asking various pain-sufferers about their experience with prescription opioids. None expressed any feelings of being dependent or addicted. Each adamantly voiced concern, however, that a new drug policy might limit his or her freedom to obtain relief from pain in the future.
Further conversation about addiction to painkillers inevitably circles around to the nature and prevalence of pain itself. Conversion to addiction from legitimate uses of opioids for acute and chronic pain is poorly understood and by some reports, uncommon. Other reports, however, indicate that up to 80 percent of heroin users began by abusing prescription opioids.10
No one is likely to disagree that opioid abuse is a problem that should be mitigated. To those in health care and policy, in a nation of increasing demand and waning resources, deciding which battles to wage warrants careful consideration.
Over the next installments, I will seek to venture deeper into this issue and ask:
How does opioid abuse compare with other health problems?
How has it come to the forefront of a national health agenda?
How do we prioritize public policy?
What in our society needs resetting to address opioid abuse and other possibly related health issues?
---

Gregory Olson, DDS, MS
Gregory Olson, DDS, MS, is a board certified pediatric dentist and orthodontist. He is currently an associate professor at Loma Linda University School of Dentistry and also a Faculty Scholar for the Institute for Health Policy and Leadership.
Dr. Olson has recently completed the Harry W. Bruce Jr. Legislative Fellowship with the American Dental Education Association and now serves on their Legislative Advisory Council. He is committed to investing in innovative partnerships, ideas and policies that will improve the health and well-being of all.
For more information contact Dr. Gregory Olson at: golson@llu.edu.
---
https://www.whitehouse.gov/blog/2016/03/29/president-obama-taking-more-action-address-prescription-drug-abuse-epidemic-0
Kelly McEvers, The House on podcast Embedded, National Public Radio 2016 http://www.npr.org/sections/health-shots/2016/03/31/469525114/inside-a-small-brick-house-at-the-heart-of-indianas-opioid-crisis
https://www.drugabuse.gov/about-nida/legislative-activities/testimony-to-congress/2016/americas-addiction-to-opioids-heroin-prescription-drug-abuse
ibid
R., et al., Prevention of prescription opioid abuse; the role of the dentist. JADA 2011; 142(7):800-809
Daubresse M, et al., Ambulatory Diagnosis and Treatment of Non-Malignant Pain in the United States, 2000-2010. Med Care. 2013 Oct;51(10):870-8.
https://www.drugabuse.gov/related-topics/trends-statistics/infographics… (UPDATE: this page is no longer available as of 10/11/2017)
---
Did you like this article? We want to hear from you! Leave your comments or questions in the space below.
Please note that the views expressed in this article do not necessarily represent those of Loma Linda University Health or the Institute for Health Policy and Leadership.