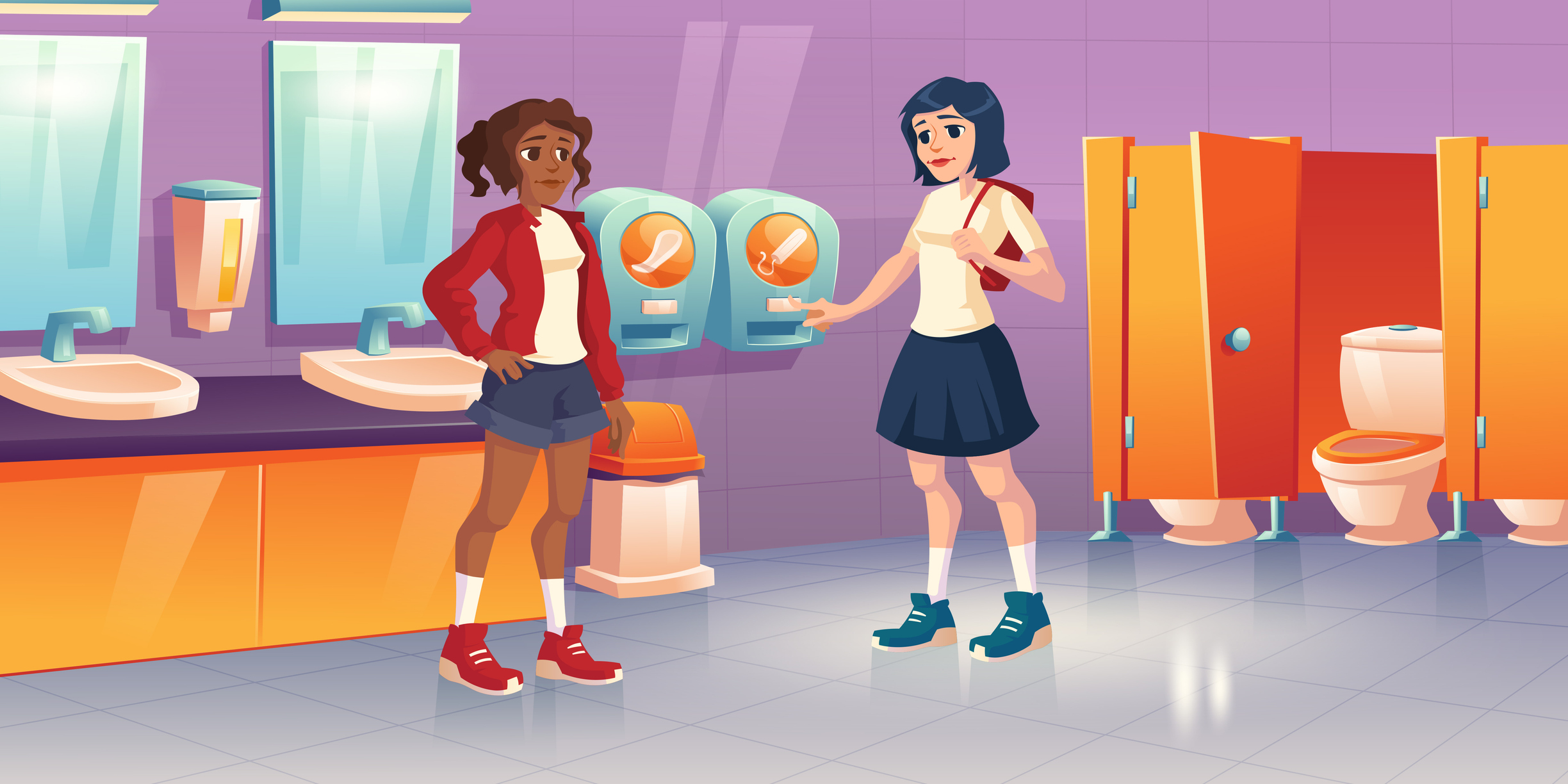 By IHPL - March 1, 2023
Is it that time of the month again? Although often not discussed openly due to stigma, many people can relate to the sinking feeling that their period suddenly started but they do not have any menstrual products on hand to use. Every day, an estimated 800 million people worldwide are on their period or menses.1 In the United States, around 20% of the population were women of reproductive age (15-44 years) in 2020.2 Poverty affected 16.9 million people who menstruate in the United States in 2021, and two-thirds had financial barriers to buying menstrual products that year.1
Lacking access to menstrual products is defined as period poverty, which can be linked to poor education, missed workdays, urinary tract infections, and depression.1 Period poverty is further exacerbated when states impose sales tax on menstrual products, often referred to as the tampon tax.3 Since 2020, California has been one of 28 states that do not tax menstrual products.3,4 In 2020, the Coronavirus Aid, Relief, and Economic Security Act newly classified menstrual products as qualified medical expenses for which people could use their Health Savings Account (HSA) or Flexible Spending Account (FSA) funds, helping people pay for menstrual products with their pre-tax dollars.3 However, this policy does not help those who do not have the means to set funds aside in their HSA or FSA.
In recent years, policymakers in California have tried to address the issue of period poverty through policies regarding menstrual products, which include sanitary napkins (pads), tampons, menstrual sponges, and menstrual cups.4 Along with 13 other states and Washington, D.C., California requires schools to have free menstrual products available to students.3 Assembly Bill (AB) 10 was signed into law on October 12, 2017, and mandated that public schools with students grade 6 to 12 and at least 40% of students living below the poverty line provide free menstrual products (pads and tampons) in half of their restrooms.5 The poverty line in 2022 for a family of four was $27,750.6 Then, in October of 2021, the governor signed into law AB 367 Menstrual Equity Act of 2021, which increased the scope to all public schools with grades 6 to 12 for supplying free menstrual products in specifically all women's restrooms, at least one men's restroom, and all all-gender restrooms by the beginning of the 2022-23 academic year.7 In addition, the law required California State University and community colleges and recommended University of California and private schools of higher learning to keep free menstrual products in at least one central campus area. Clear signage of the free menstrual products' location at colleges are needed in at least one men's restroom, all all-gender restrooms, and all women's restrooms.
In addition to the laws that have already passed, the California State Legislature is currently considering several bills to further expand student access to menstrual products. On December 19, 2022, Senator Skinner introduced SB 59 Menstrual Product Accessibility Act to expand the current law to include state, local government, and state-funded hospital buildings to provide free menstrual products to employees and the public.8 On January 11, 2023, Assembly Member Reyes introduced AB 230 Menstrual Products: Girl Scouts Period Equity Act to grant additional access to menstrual products at school to grades 3 to 5 instead of starting at grade 6 after hearing from Girl Scouts that their classmates were starting their periods earlier.9,10 Similar to previous bills that became laws, the state would reimburse some of the costs proposed by both bills.
Nationally, in May 2021, House of Representatives (HR) 3614 Menstrual Equity for All Act of 2021 was introduced to allow elementary, middle, and high schools to buy menstrual products with particular grants and create a grant program for menstrual products for schools of higher learning.11 HR 3614 also orders employers with at least 100 employees, federal and state jails and prisons, and federal facilities with public restrooms to carry free menstrual products.11 Medicaid would pay for menstrual products, and some grants to help the homeless could cover menstrual products.11 HR 3614 was referred to a subcommittee in November 2022 without further action.11
In contrast to the lack of further action at the federal level, California has continued since 2017 to build upon policies for free menstrual products for students and is interested in supporting its workforce with free menstrual products. Increasing the number of days people can work by reducing physical and mental health problems related to not having menstrual products is beneficial for the economy. Free menstrual products give an opportunity to students who would otherwise not afford it be able to attend school. For example, schools in New York City that started stocking free menstrual products observed a 2.4% improvement in student attendance.12 More days in school can lead to better learning and grades, paving the way for academic and career success for students in the future. The federal government addressing this issue at the national level to lessen the burden of period poverty would be a great next step.
Author Bio
Alice Jean, MD
Dr. Jean is a fourth-year Family and Preventive Medicine resident and a Master of Public Health candidate at Loma Linda University. She is passionate about serving the underserved in her local and global community. She became interested in health policy as she realized the importance of advocating for her patients through her clinical training and volunteer work to better provide whole-person care and wellness promotion.
References