By IHPL - April 15, 2022
Many years ago, as a new graduate from nursing school, I was assigned to an oncology unit and then later to the intensive care unit (ICU) and eventually to the Emergency Room. The shifts were long and very demanding. But that was just the physical work. Seeing critically ill patients and trauma victims in acute stages of suffering takes a different toll, emotionally and mentally. It is easy to understand, in this context, why so many healthcare professionals experience burnout, especially during the last two years as the world fights a pandemic.
Dr. Lorna Breen was one such person. She committed suicide in April 2020 at the height of the pandemic in New York. Dr. Breen had been on the frontlines of the huge, early COVID-19 surge in New York, contracted the virus herself, and then returned to work long hours. She confided in her family that she was overwhelmed with anxiety, exhaustion, and uncertainty but feared that reaching out for help would have professional repercussions. Not being able to bear it, she ended her life.[i]  Almost two years later, on March 18, 2022, President Joe Biden signed the Dr. Lorna Breen Health Care Provider Protection Act (HR 1667), a bipartisan bill aimed at reducing and preventing burnout, suicide, and mental and behavioral conditions among healthcare professionals.[ii]
Like Dr. Breen, so many other healthcare professionals suffer from high levels of burnout related to their jobs, especially those who care for critically ill patients.  Burnout may lead to posttraumatic stress disorder (PSTD), substance abuse, and even suicide.[iii]  Each year, over 400 physicians commit suicide in the U.S., mainly related to depression and burnout.[iv]  Compared to the general population, nurses and physicians have higher rates of suicide.[v], [vi] A survey conducted in 2017 with over 7,000 nurses found that nurses experiencing burnout were twice as likely to have thoughts of suicide, and those who reported depression symptoms were 11 times more likely to have suicidal thoughts.[vii]  Even before the pandemic, depression rates among health professionals were rising.[viii] 
This situation has become exacerbated by the COVID-19 pandemic. During the pandemic, frontline healthcare professionals experienced long and physically demanding hours, staff shortages due to fear and illness, lack of adequate protection from the virus, and difficult ethical and moral decisions about allocating limited resources. The combination of these factors has put them at increased risk of mental health conditions.
This experience was not limited to the United States. For example, in a study of Chinese healthcare professionals who cared for patients with COVID-19 at the height of the pandemic, a large proportion experienced symptoms of depression, anxiety, insomnia, and distress.[ix] Similar findings emerged after the SARS and MERS outbreaks in studies that found higher levels of psychological distress during the outbreak that persisted in the long term.[x], [xi]
Fortunately, policymakers have taken notice. The Dr. Lorna Breen Health Care Provider Protection Act provides federal funds of $135 million over three years to tackle this issue.[xii] It includes grants for research on evidence-based strategies and policy recommendations to reduce burnout related to job stress, a national campaign aimed at healthcare professionals to encourage prioritization of mental health, and employee education and peer-support programs.[xiii]  This legislation is an excellent first step in understanding and identifying strategies. However, a systems-based approach is essential to address the underlying factors that effectively prevent or treat burnout. Interventions should focus on root causes, establishing healthy work environments and helping healthcare professionals learn to thrive and build resiliency skills.
While current healthcare education effectively transmits knowledge and skills about patient care, less emphasis is placed on integrating and prioritizing self-care practices early within health professional curriculums.[xiv]A focus on self-care can help normalize and destigmatize discussions about well-being that often prevent healthcare professionals from accessing resources. In addition, changes to state regulations will facilitate healthcare professionals to seek help on mental health issues without fear of repercussions to their jobs, careers, or licenses. Finally, healthcare professionals need to be encouraged and supported to learn and practice self-compassion and self-care skills. Promoting the mental well-being of our frontline health workforce is one part of building the capacity to address our national mental health crisis. 
---
Author Bio: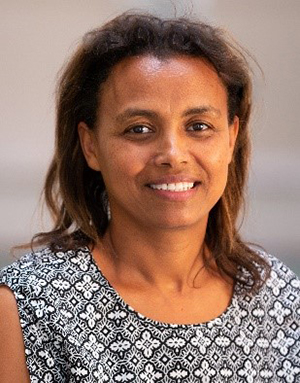 Selam Stephanos, MPH, RN
Selam Stephanos is an Assistant Professor at the School of Nursing. Her research interests include program/policy evaluation, health disparities, vulnerable populations, wellness and chronic disease prevention and management.
---
References