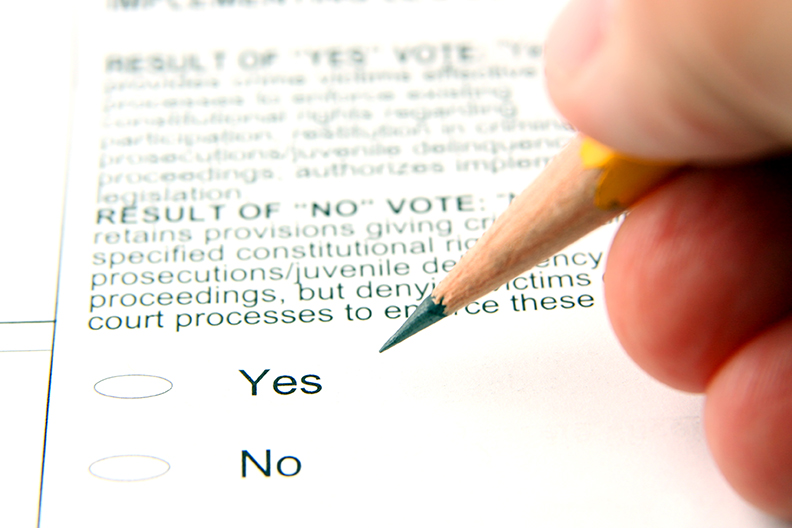 By IHPL - October 14, 2020
With the November election just around the corner, I would like to highlight one of the twelve ballot measures that California voters will face: Proposition 16. This proposition deals with affirmative action and has the potential of changing the trajectory of many lives in the state of California. (Of note, information about the twelve ballot measures covering a range of topics can be found at https://lao.ca.gov/BallotAnalysis/Propositions.)
Background
Affirmative action is a policy in which an individual's race, ethnicity, sex, religion, or national origin is taken into account for education or employment opportunities in order to increase prospects for particular groups that have historically been underrepresented.1 For many years, support for affirmative action stemmed from an interest in dismantling inequities in employment, discrepancies in pay, disproportionate access to quality education, and lack of diversity.
Proposition 209 
In 1996, voters in the state of California approved Proposition 209 which banned the consideration of race, sex, color, ethnicity, or national origin at state institutions.2 Before this proposition, there was a host of programs that were implemented to set aside contracts and spots for minorities at educational institutions. After this proposition, however, these opportunities slowly decreased, and there was an immediate reduction in Black and Latino enrollment at CA's elite public universities.3 Some institutions tried to address inequities by creating pipeline programs that were geared toward ensuring the success of individuals who were first in their family to go to college.2  Such programs helped to bridge some of the inequity gap, but it was bit more challenging to capture certain minority groups due to the restrictions posed by Proposition 209.
Proposition 16 
Fast forward to 2020, Assembly Member Shirley Weber introduced Proposition 16 to reverse Proposition 209 and reinstate affirmative action in CA's public institutions. If CA voters pass Proposition 16, there would be a consideration of race, sex, color, ethnicity, and national origin in public education, public employment, and public contracting to the extent allowed under federal and state law.2 This proposition has the potential to change the trajectory of many lives in the state of California because it could open up career and academic opportunities to a wider population. On the other hand, opponents of this ballot measure do not view it as an effective way to address inequities because they believe it aims to legalize discrimination and government-sanctioned racial favoritism. Some groups such as the Chinese American Californians have also opposed the measure, concerned that increasing enrollment of students from underrepresented racial groups could come at the expense of "overrepresented" minorities such as Asian American students.3,4 However, there are also many other AAPI (Asian Americans and Pacific Islanders) groups that are in favor of Proposition 16.5
Conclusion
There is quite a range of opinions regarding whether Proposition 16 should be approved or not. On the one hand, some view it as an opportunity to mitigate disparities and allow certain groups to thrive. On the other hand, some believe it is an opportunity to discriminate and potentially remove opportunities from certain groups based on their race, sex, ethnicity, religion, and national origin. Exploration of bodies of research that address the effects of affirmative action should be done to compile a working body of evidence to shed light on its true effects for a variety of groups being impacted. In the meantime, we will see how the battle between Proposition 209 and Proposition 16 unfolds in the next few weeks.
---
Author bio:

Queen-Ivie Egiebor, MPH
Queen-Ivie Egiebor completed her undergraduate education in Biochemistry with a minor in Public Policy at the University of California, Riverside (UCR). She then received her Master of Public Health degree at Loma Linda University (LLU). Currently, she is pursuing a dual degree: an MD from UCR and a DrPH in Health Policy and Leadership from LLU.
---
References: